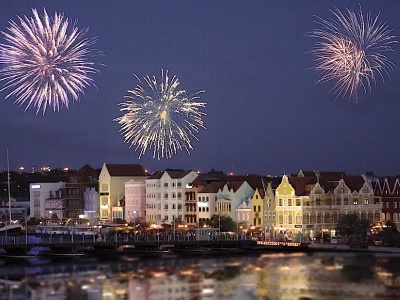 Are you considering visiting Curacao for this holiday season and experience the great New Year's celebrations on the island? Prepare for a lot of fireworks, because in Curacao is all about fireworks. During the weeks before New Year's Eve Curacao is inundated with fireworks shows across the island. There's nothing as exciting as New Year's in Curacao.

From December 27th, daily firework shows take place in different areas on the island. Streets get closed off for the show to happen. The shows are busy, social and a lot of fun. Make sure you get a good view of parking place to watch the shows.

Firework shops are almost everywhere with a sign that reads "Vuurwerk" (fireworks). Everyone older than twelve years old can buy fireworks in Curacao. In the shops, you can find everything from (almost) harmless ones for kids to the dangerous ones for daredevils.

The countdown to the New Year is a worldwide huge happening, and here on Curacao is no exception. On the island, the biggest celebration takes places in the capital city, Willemstad. The Brionplein (plaza) in Otrobanda is filled with families waiting to welcome the New Year. Local bands play while families enjoy their homemade food and drinks.

When the clock strikes midnight, fireworks light up the sky and everyone is giving each other the best wishes and dancing. New Year in Curacao is definitely a pleasant and unique experience. We invite you to come and enjoy us this year!


New Year's comes but once a year, so it's worth it to make it memorable!