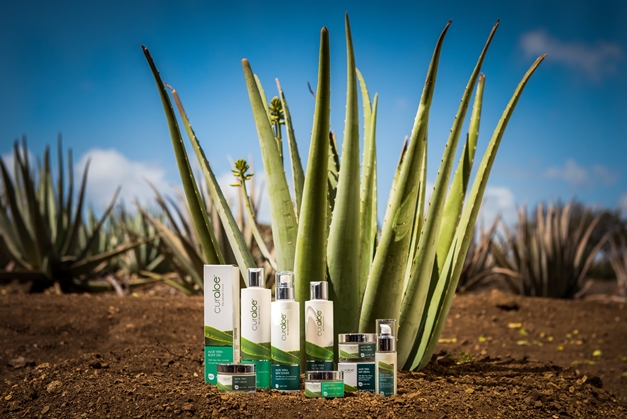 Aloe Vera at the Aloe Vera Plantation (home of Curaloe)
Aloe Vera Curacao is the most commercialized aloe species, and processing the leaf pulp has become a worldwide industry. In the cosmetic industry, it has been used as base material for the production of creams, lotions, soaps, shampoos, facial cleansers and other products. In the food and complementary medicinal industry, it has been used as an ingredient in health beverages. At Curacao Ecocity Projects NV (Curaloe), we specialize in using good agricultural and organic farming and state of the art processes to harvest Aloe Vera, nature's gift to a healthy life.

---
SO WHY SHOULD YOU CHOOSE CURALOE?
1 – PURE ALOE VERA – HISTORY
The first reason you should choose Curaloe is because it is used over 4000 years by mankind. In the
time of great explorers like Alexander The Great and Christopher Columbus, Aloe Vera was used as a
medicine for many illnesses, immune booster, burns and battle wounds.
We from Curaloe think that you have to put pure Aloe Vera into your products so you can fully enjoy
the benefits of this beautiful plant. This is what makes our product unique. We are using pure Aloe
Vera in our products, so no concentrated powder and water as a main ingredient, but pure aloe vera
combined with beautiful other active ingredients.
IT CAN REDUCE SKIN DISEASE, ABRASIONS, MINOR INJURIES, CUTS AND BURNS!
2 – FROM PLANT TO BOTTLE AT ONE LOCATION –
The second reason you should buy Curaloe is that we harvest and produce our wonderful products in
one location: The Aloe Vera Plantation (home of curaloe).
We do not have to transport our products or ingredients from factory to factory. The products that
you buy on the island are right from our plantation.

SINCE ANCIENT TIMES, MANY PEOPLE CALL ALOEVERA THE MIRACLE PLANT.
3 – SUSTAINABLE
Last but not least is that we are very aware of our planet and the enviroment. We would like to grow
aloe vera for many more years to come, so we produce in a sustainable manner.
---
---
Where to Buy Aloe Vera Products on Curaçao
'Also available at most Hotel Shops on the island'
---
Have Curaloe delivered to your doorstep
---