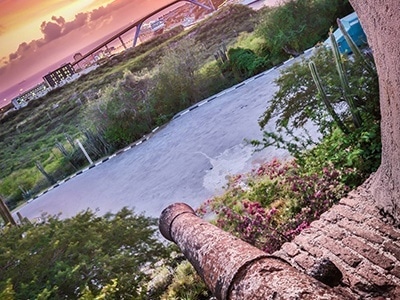 Situated on a 68-meter high hill next to the St. Anna Bay in the city of Willemstad, on the Caribbean island of Curacao, you'll find Fort Nassau. The fort was built in 1797 on the Sablica Hill by the Military Committee of the Curacao Council to protect the town Willemstad and war- and merchant ships moored in the bay.

Now decommissioned, it remains an important signal station for vessels in St. Anna Bay, and also regulates the opening and closing of the Queen Emma pontoon bridge.

Fort Nassau has hosted a popular restaurant since 1959, serving Caribbean-style haute cuisine and fine wines amid authentic 18th-century decor "Art Culinair with a Caribbean flair". During the evening the setting is spectacular, a romantic oasis overlooking a veil of twinkling lights. It's well worth adding lunch or dinner at Restaurant Fort Nassau to your Curacao itinerary.


You haven't seen Curacao if you haven't been to Fort Nassau