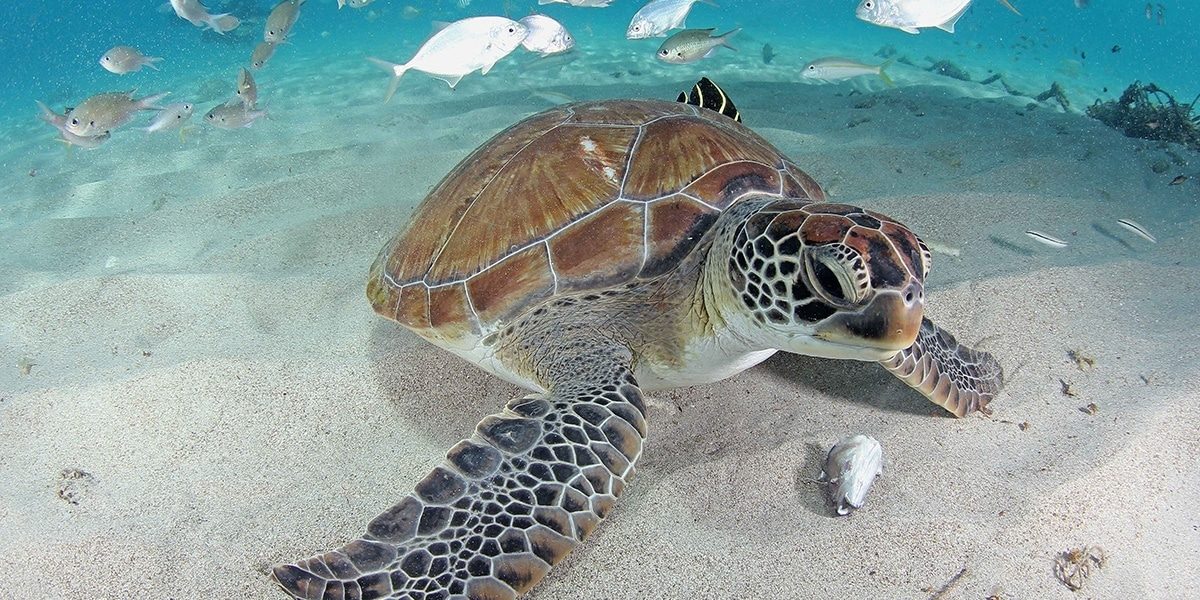 Crystal Clear Waters and Beautiful Coral Reef
Situated nearby a small old fishing village Playa Lagun offers you a magnificent and beautiful sight with the steel rocky cliffs and white sand beach. To escape from the sweltering island sun, you can take refuge beneath concrete huts for shelter. The waters are excellent for swimming and snorkeling. The beaches in Curacao are not usually known for their peace and quiet, but Playa Lagun is less exposed, making it just the right spot for vacationers who'd prefer to stay out of the busiest areas.
Perfect For Snorkelers of Any Skill Level
A favorite site for divers and snorkelers alike. At Playa Lagun, you can glimpse vividly colored tropical fish and schools of squid which flourish in the waters off of this shore. You will also see healthy coral coverage and large sponges. There are facilities to rent snorkel and scuba gear.
Swimming With Sea Turtles in Curacao
One of the experiences you never get tired of is diving or snorkeling with sea turtles. Sea turtles are believed to have been on earth for more than 100 million years. Nowadays, all sea turtles are endangered species and are on the brink of extinction. At Playa Lagun, the fishermen seem to bring the leftover fish guts every morning between 10:30-11:30 and the turtles know it! Every afternoon between 16:00 and 18:00, they swim into the cove again to eat.
Unlike many other beaches on the island, admission to Playa Lagun is free. You can have lunch and a drink at the small and nice bistro's at the right site of the lagoon. A beautiful dive site that offers divers and their family an amazing day at one of the most beautiful lagoons at the island. For the ones that want to snorkel: do!