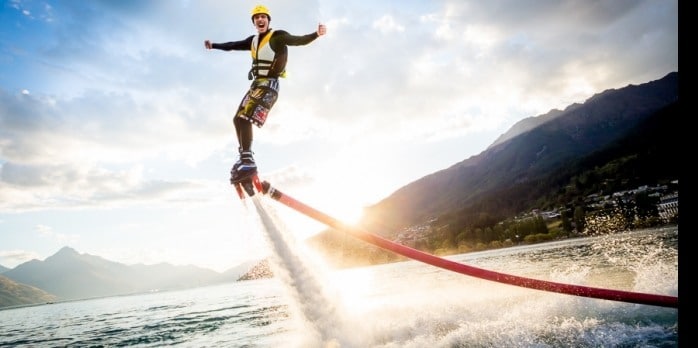 What is Flyboarding?
Looking at the board, you would think it is something straight out of a science fiction film. Flyboarding is an amazing way to surf the sky like a super hero. A Flyboard enables to use water pressure to 'fly' above the sea. The rider stands on a board, much like a small wakeboard, which is connected to a personal water craft (PWC), which gives the Flyboard propulsion through air and water.
Things you have to know:
– Flyboard is easy: It's actually very natural and intuitive, just like walking. You don't need to have muscles like Iron Man to be able to zoom around. As long as you can keep your balance, you'll be fine. Most people tend to get up on the board within 2 to 10 mn on their first attempt at Flyboarding.
– Flyboard is safe: The Flyboard is a safe activity to try as long as you listen to your guide's instructions. Your instructor is in control of your height at all times and will provide you all the tips necessary. In case you fall off your board, and even if you do come off, it's a fairly smooth landing.
– Flyboard is fun: Once you get going, you are only limited by your creativity. The Flyboard is very maneuverable and as soon as your second or third attempt, you'll be starting to learn tricks.
Fly like a hero and don't miss this unique experience! Zapata Flyboard Caribbean on Curacao offers this exciting water activity for adults and kids from 10 years old.