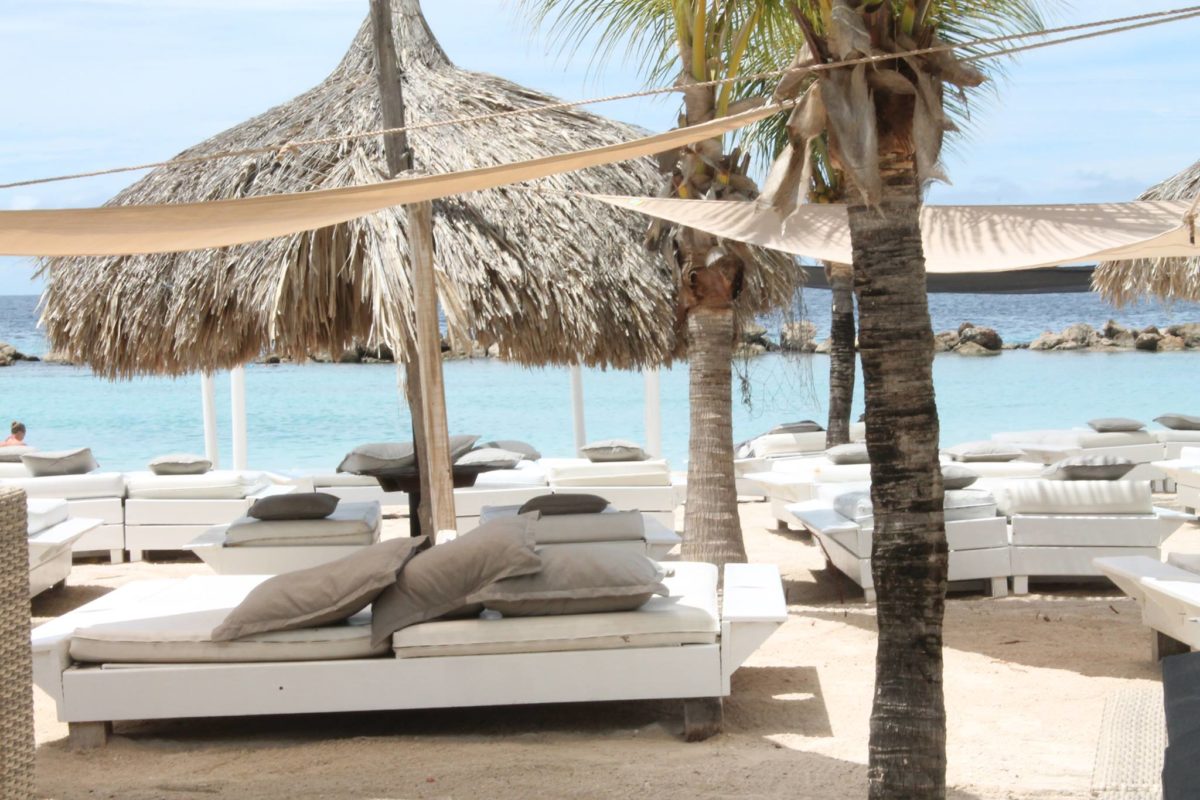 Een beachclub zoals het hoort te zijn.
Overdag heerlijk genieten op het strand. Op zo'n lekker strandbedje, in de schaduw van een palmboom. Zonnebril op je neus, cocktail in de hand. Ja, ik kom hier graag met mijn gezin. De perfecte manier om het weekend door te komen. De kinderen spelen lekker in het water, terwijl mijn vriend en ik van het zonnetje genieten.
Cabana is een beachclub aan het Sea-Aquarium strand, en heeft een eigen parkeerplaats. Je betaalt wel een klein bedrag om gebruik te mogen maken van het strand en de strandbedjes, maar daar krijg je service voor terug.
Lunchen en dineren op het strand.
Tijdens zo'n stranddagje nemen we rond het middaguur natuurlijk ook een lunch. Ik vind het heerlijk om op het strand te lunchen. Cabana heeft een uitgebreide lunchkaart. Voor de kinderen bestellen we meestal een 'Panini', want die gaat er altijd goed in. Zelf neem ik graag een van de salades.
We hebben hier ook wel eens 's avonds gegeten. Je hebt hier leuke dinerspecials zoals de fishmarket op vrijdag, waar je zelf je verse vis uitzoekt en deze wordt dan voor je klaar gemaakt. Erg lekker is dat! Op zondag heb je ook nog een steakmarket, wat het zelfde principe is, maar dan dus met steak.
Drankjes en gezelligheid bij Cabana.
De bekendste avond van Cabana is de woensdagavond. Elke week opnieuw komen veel toeristen, stagiaires en mensen die op het eiland wonen samen, om het midden van de week te vieren. Voor toeristen is dit absoluut 'the place to be' op woensdagavond, wil je wat mee krijgen van het uitgaansleven op Curacao. Vanaf een uurtje of 11 begint het druk te worden en gaat het volume van de muziek omhoog.
Dus voor een heerlijke relaxte dag op het strand kan ik je zeker Cabana aanbevelen. En wil je uitgaan zoals je dat op een tropisch eiland verwacht, dan is de woensdagavond zeker ook aan te raden. Dansen op het strand onder de sterrenhemel. Erg leuk om mee te maken.
Wekelijkse events
Woensdag 21.30 – Nine dot five

Vernoemd naar de sprankelende wijn Astoria's 9.5 die deze avond voor een speciale prijs te krijgen is. Deze avond is er live muziek en kun je relaxen in het lounge gedeelte of dansen op de dansvloer.

Vrijdag 19.00 – Fish market

Zoek je eigen stukje vis uit en laat deze live bereiden om deze vervolgens te nuttigen met een lekker glaasje wijn onder het genot van live muziek

Zondag 15.00 tot 18.00 – Mojito bar

Mojito's drinken op het strand en dat voor maar nafl 7.50 per mojito, dat kan op zondagmiddag. Van 17.00 tot 18.00 is het happy hour en zijn de drankjes voor de halve prijs.

Zondag 19.00 – Steak market

Je kan zelf een stukje steak uitzoeken en de kok gaat deze live bereiden voor jou. Ook deze avond is er live entertainment aanwezig.