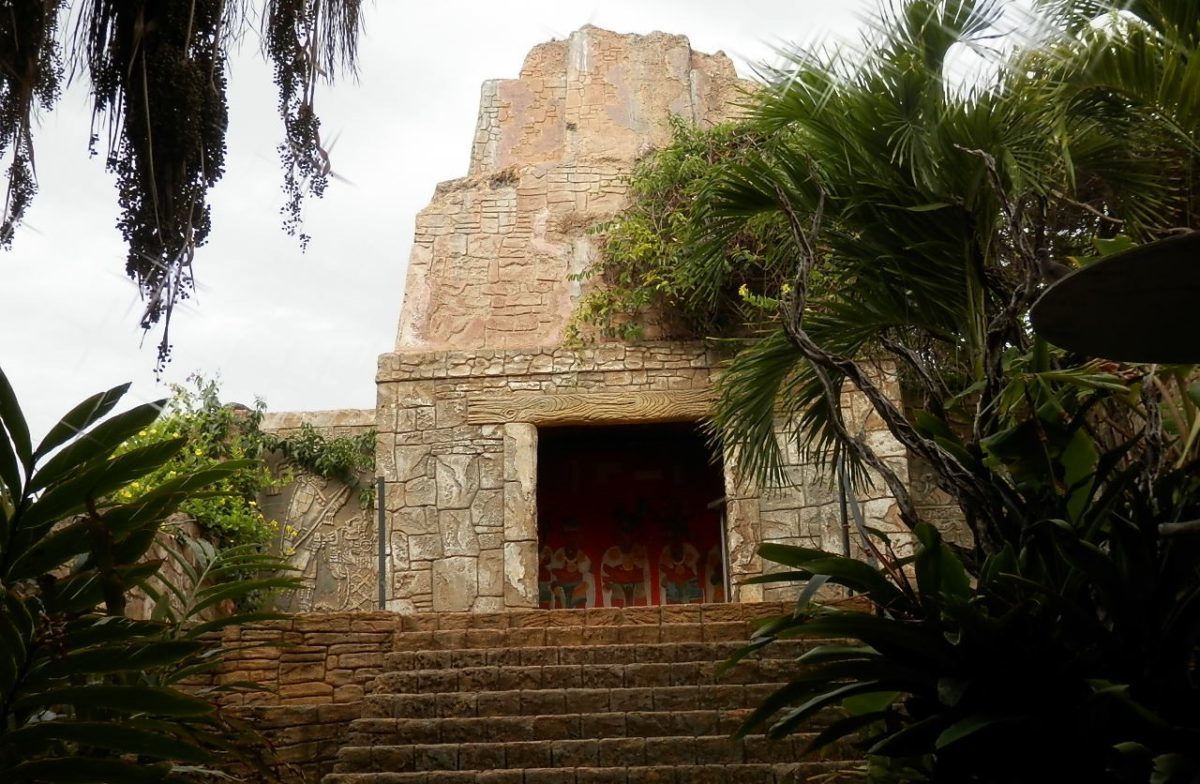 Being on the beach for a couple of days already, we wanted something different.

We decided to go to a very special place, the Amazon- jungle!
My hubby and I booked a tour and a dinner at l'Aldea. This place is a unique copy of the Amazon rainforest and its made on 4000 square meters in the area of St. Catharina.
The Amazonia Tour
First, with our guide Lisa, we went with a small group into the woods of the l'Aldea jungle. What a wonderful experience that was! We passed through a real part of a jungle, with the biggest fish in the water that you can think off.

After the fish, I met Luna, the white cockatoo, who I think, fell in love with me. He kept on trying to walk over from his branch to my shoulder. I was immediately swept of my feet. What a astonishing place this is!

We entered 2 replica's of Maya temples in which there was a wide selection of animals living. we were able to watch all sorts of reptiles from close by. There were lizards, snakes, scorpions, huge frogs, dragon iguana's, and on and on. On the walls and in the corners of the temples there were paintings and statues of the Maya culture. Lisa explained us all about the statues and why they are important to the Mayas. After the Maya temples, we headed up a Indian tree temple where I got absolutely tricked. I can't explain, you just have to experience it for yourself!
The tour passed by the early history of Curacao as well. We found a complete tribe in the Amazon, all into different stages of their lives. We walked among monkeys, so cute, you just want to take them home with you (which, don't worry, of course we didn't).
The types of animals we passed by, kept on being either bigger or more rare. Every animal in the l'Aldea Amazon has a story of it's one, and Lisa knew them all. It was a very informative and fun tour. And she had no trouble switching constantly from one language to another to make sure everybody could understand.
Dr. Fish
After the tour, we had a encounter with the weirdest and funniest fish ever! We had booked a "Dr. Fish" encounter, which means, you sit on a comfortable pillow, next to a small pool with clear water, in which about a hundred 'Garra rufa' fish swim around. And these little guys are just waiting for you to put your feet in.

I had no idea what to expect, but the moment I put my feet in, they all started nibbling on my skin. This was the funniest feeling ever! It was like a hundred feathers tickle you while you sit and relax. I could not stop laughing. I felt so funny and weird at the same time! After 15 minutes, when I took my feet out, my skin was all nice and soft. (They also say it helps your skin to stay healthy.) For sure I want to do this more often.
All you can Meat
To make the evening complete, we had signed up for the "all you can (M)eat" dinner at the l'Aldea restaurant. On arrival, a friendly waitress explained the concept of the dinner; With a token on your table, you tell the staff if you would like to be served more meat, or if you want to take a brake. You just turn the token on your table to tell them.

Maybe, just as I have, you may have gone to a restaurant where the staff either ignores you, or stands constantly next to your table, watching you.
How different you get treated here! The l'Aldea staff knows how to excel in service and professional behavior. The l'Aldea staff miraculously knows when to provide you with excellent service at your table without having to attract their attention, and when to provide you with the privacy to enjoy your dinner (how DO they do that?).
And then it was time to taste the food…. Ai, the food! They provide you with the juiciest tenderloin and marinated spare ribs, next to the best beef, lomito, delicious chicken and sweetest picanja you have ever had. And you can take as much as you want, as many times as you want.
At one side of the restaurant, there is a smartly designed round glass room where you can take as much soup, rice, baklava, different fresh salads and the most excellent deserts as you want! All kept fresh and either nicely hot or cool. And again, you can take whatever you like! They just keep on coming with different types of meat, and you can take whatever you want from the salad bar.

When the night fell, a numerous amount of romantic lights turned on. And there we were, in the middle of the Amazon jungle, with the best dinner on the table, having done an amazing tour and the most funny fish experience ever. An absolute go for everyone!
Where to find l'Aldea